ohjudithbutlerwon'tyoushimythatshakegimmethatrakedroppingnutsandthingscutmytitsupandsingholl
asomeothatguerillashitilikemypussypinksaucyandmynailsallslickchazbonotalkingnotlikeamanbutadick
weain'tlyingwhenwesaywefeellikethissteallikethisreallikethis
If the body is present, the etymological fallacy is present.
This as always already have happening.
Indeed, space astonishes.
Once we were that, and truly.
Now we are truly, and this.
If space is a pleasure and a threat.
If the body is afraid, we are real.

Tre Natro
If genderqueer, then conceptual architecture.
If conceptual architecture, then motherfucking sexy as it gets.
I love you tits I love you tits you're taking me.
Always and forever implacable, the principle
of critical mass become religion. The tits are bobbing
(lolling?) in the already tepid soup of tiny tits.
You are a walking tit on 4th Avenue and at the B-line
you carry tit-shaped confessions and tit-shaped guns.
Tit-driver, tit-talker, tit-caller, tit-shopper, tit-mountain,
tit-song. Tit-stopper, tit-seller, tit-scratcher.
Tit-basher, tit-masher, tit-here-kitty-kitty, tit-catcher.
Tit-touch-me-only-when-I-tell-you-to.
Tit-come.
Tit-hi-little-doggie-where's-your-owner?
Tit-party-in-my-pants.
Tit-shut-your-pie-hole.
Tit-text-me-in-the-morning.
Tit-i-c-u-i-don't-miss u-tit-ur-dum.
It doesn't work?
It doesn't have to work.
Tit-sorry-so-sloppy, tit-up-chuck.
Tits-that-know-they-are-a-forest-
to-be-reckoned-with. Tits-that-follow-
and-then-play-it-by-year.
That there are not more ripples
in the pond from the meathook
is a continual source of
amazement. The tits still love
you. There are two of them, yes,
but they are gone.

j/j hastain

Pass comes to us from the Latin, passus, "a step, a stride, a pace." Confession follows from the Old French, confesser, which came from the Latin, confess, which is the present participle stem of confiteri, meaning "to acknowledge," from com- "together" + fateri "to admit." Religiously speaking, a confesser was one who openly declared their faith under the possibility of persecution but somehow avoided martyrdom. To say someone was a confesser then took on the figurative meaning "to harm, hurt, or make suffer." I confess: I smothered it with confession. Which is to say I believe in a fallacy of irrelevance. That history carries its own house to the party. That winter is just one version of snow. Failure is from the Old French, falir, meaning "to be lacking." That passing is only one way to miss

D'Lo
If the body is trans, then repulsion is sublime.
If the body is sublime, then boundaries no longer exist.
If the body has boundaries, then the body is repeatable.
If the body is repeatable, then obscurity is required.
If the body is required, then the performance is already lost.
If the body is outside of you, then the loneliness of what passes for a kiss.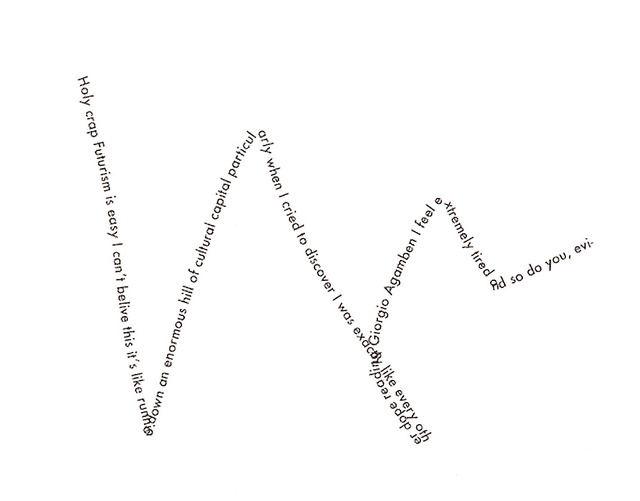 Tim Trace Peterson
There is a difference between what one can pass (a needle, for instance, or a woman with short hair on the street) and what one cannot seem to pass (faith, perhaps, or facial hair, or the belief that one will never work hard enough to earn a full night's sleep).

Our Lady J
A place name (I) is an occurrence of retreat (miss you). A circle is (Harry Benjamin, will you fuck me?) an occurrence of light. A ground (this fence) is an occurrence of destruction. A voice is (making my vagina) an occurrence (bloody) of a madness. A rail line an occurrence of parting. (hungry) A boundary an oc­currence of travail. (A vagina a consequence of light.)
time

of
surrender
unreserved
in the
had been written
the body