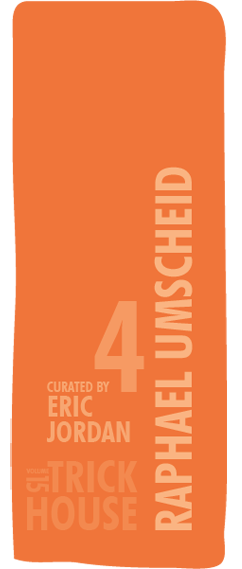 Like the best mythology, the videos presented here by Raphael Umscheid reflect a blending of personal and social matters. This series of inter-related videos created expressly for this volume of Trickhouse obtain those shapes: an instantly knowable Universal truth; a sharp individual reflection; a moment of frustration handled with humor.
-Eric Jordan, Trickhouse Curator


The Minotaur's Prison
The man with paint in a tug o' war. A minotaur bound. Struggling ensues. Off balance.

Man with Paint
The story of a a desk jockey, thirsty and eager to bring something to life if he only knew how. He goes for a ride.

Understanding Dinner
Typical dinner with a MINOTAUR and a GUY. Watch them eye each other. Watch them contemplate/eat hay. Trying to decide on what to order is so hard.
The Lady with the Long Arm

Birdman
A common enough tale. A birdman has a moment. Maybe he is not as invincible as he thought he was. Why is he afraid to stand? Can he even fly?

See More (Camera Eater)
A girl who wants the look to be just right. Dreamy video of her eating a toy camera and film.
Raphael Umscheid is a visual artist/musician living in Austin, TX. He is fascinated by geography and surreal fantasies. His greatest joy would be to find an unknown continent or, at least, a small geographic feature. Until then, he will imagine what that scene might look and feel like. More of his work can be seen at www.soyuz11.com. He can be reached at raicane@gmail.com.