The following is an unedited exchange between painters Luan Nel and Desmond Mnyila:
LN: The first thing that came to my mind, without reading your text, simply from a visual point of view is your seemingly limited palette, and yet how incredibly complex the paintings were, painted densely and with confidence of brush stroke or mark making. The work could mistakenly read as abstraction, as 'play' and purely formal but I get the sense that these are constructions as much as they are paintings or perhaps simply put, they are highly constructed paintings.
Why do you choose to work with such a near monochromatic palette? Does it not limit you?
Your application of the paint is rather thick and confident and there seems to be a lot of build up of paint, layering, as opposed to simple 'drawing' of the seen world. This points to an emotive and possibly metaphorical use of the medium in my mind, am I mistaken? Please can you expand either way?
Does your subject matter – seascapes, landscape, colonial buildings, carry significance beyond being a simple visual point of departure?
Landscape painting has a very strong colonial history in South Africa. Does your work address it or acknowledge this history and why does this not seem to dull your enthusiasm for painting as a medium. Painting itself being associated broadly with Western Art production. A 'language' of the oppressor as it were, yet having had first-hand experience at the hands of Apartheid, you still feel comfortable working in this vein, in this country. How did you get to such a point?
DM: Thanks, Luan, for your encouraging remarks about my paintings.
In my paintings I consciously try to create a world that is different from the seen world. Objects in my paintings behave differently than in the seen world. Whether it is a tree in a landscape or a building that I paint- I always paint not how it is naturally but "what the thing painted could never be" (Hokusai , a Japanese printmaker on 'Ornament'). In each painting I create, I always try to push the boundaries of the medium in order to exploit its peculiar qualities.
The oil paint medium is the most amazing and most versatile of media. It is through only this medium than one is able to make the most from very least. Having worked with graphic media as a graphic artist I explored and studied colour for many years in both printmaking and for 10 years I worked exclusively in pastels.
My compositions are relatively simple so as to focus on the quality of paint itself and always create a mood for each painting.
The thick application of paint is both an emotional expression and a metaphor for the different periods of South African history that I have experienced.
My interest in landscapes started when I lost my sister and my best friend in 1999. This was a very sad time of my life. When I was at Fort Hare I always depicted human figures until this time. I started to distance myself from people because I knew any relationship will come to an end. The loss drew me closer to nature and I produced some of my first landscape drawings in pastel and it was only in 2013 that I started painting again starting in acrylics and later oils.
I have always been intrigued by water as a calm material yet with a potential to become extremely violent. I started being interested in buildings when I arrived in Grahamstown – as many colonial buildings are still present here in their original form – well preserved. History just comes alive the moment one sets foot on Grahamstown soil.
The oil paint medium has therapeutic value for me and the painting process itself is a form of sublimation. I paint in order to live.
I was fortunate to study art under two men who loved oil painting with a passion. Mr Hillary Graham whom we affectionately referred to as a "painting machine" because he painted very fast. He stressed the importance of knowing your materials as an artist. Before a drawing lesson, he would teach us about how pencils and paints are made. Professor Michael Hallier aimed for the heart- he always spoke about painting as if speaking about a person. He stressed love for what you are doing – whether you are painting a model or still life you needed to love it. These gentlemen imparted a love for the medium that has survived for many years.
The reasons I choose painting and landscape painting is because I love it first and secondly we had our first formal art lessons at a Fine Art Department run by two white males – an English man and a German man. They never made us feel different from students at historically white universities. They encouraged us to express ourselves freely and we grew to hate any prescription or restriction on what you as an artist must do. We saw them exercise their freedom of expression in the paintings they produced and they encouraged us to do the same. In my final year of my BFA my theme I worked on was "Japanese Erotica (Kamasutra)" – I received a scholarship to study in Japan but later rejected it because one of its conditions was that I was going to learn and study the MFA in Japanese. I produce paintings that are South African and refuse to allow any prescription on which manner I ought to work as a "Black South African". My experience and art education is Western and I am also a Christian. I adopted both a Western God and a Western form of art production. Oil painting is no longer a language of the oppressor if one looks at Black artists who have excelled in this medium like George Pemba, Gerard Sekoto, Gerard Bhengu and many contemporary artists. Professor Thomas Matthews wrote a book titled "African Mural" which shows that painting is actually not a Western form of art production but is also "African".
LN: Thank you very much for that. I sensed a mild irritation at the issue of painting being seen as the language of the oppressor. Brilliantly countered and I completely agree of course. I hope you know I was playing devil's advocate and those are not my own views. It seemed pertinent to ask because in your statement you do venture into our history in South Africa and I felt it needed asking. It is also a very current issue. I hope you did not take any of it the wrong way.
DM: Thanks for asking the questions you asked Luan. It dawned on me as you asked that because of the political nature of my recent paintings, I need to be on my toes to defend my stance and respond to questions like why select some of the stuff (like landscape painting) that came with colonialism and reject others (like colonial architecture). The question you asked didn't take me by surprise, it is very often asked like when I was in East London in the 90's, a gallery curator requested one of my works to send to an overseas gallery that specialised in collecting African art. My work was rejected and the gallery owner claimed the painting did not look 'African' . Where I teach, my students are predominantly Xhosa with a few Coloured students and we are often visited by overseas tourists looking for African art but always disappoint them because the learners work is not 'African ' enough – it is strange that overseas visitors think Africa is a big safari and most of my students haven't set eyes on a wild animal. Some of the artists I studied at Fort Hare with have had to buckle under the pressure to produce 'more African' work with disappointing results: Andrew Nhlangwini(who studied for MTEC[FA] at NMMU) is working on oral traditions and paintings influenced by ancestral beliefs though he was a very good illustrator , Thembeka Qangule who studied for MFA at UCT had to use traditional Xhosa fabric designs in her work – what a loss. A very good landscape and figure painter who was the first art student to receive a commission to paint Fort Hare landscape for Fort Hare Foundation archives Zamani Makhanya has now abandoned painting completely and is now drawing African masks and abstract designs he believes are inspired by his ancestors. As for me – a Christian, I don't believe in ancestors and in my own Xhosa culture we never used masks even in rituals and those masks are cursed . I have read about stories of art collect ors buying masks from craftsmen in countries like Nigeria and as soon as the mask is displayed on their house walls they encounter unusual problems. It's an ongoing debate and we can't really escape it.
LN: I understand now your frustration at having to go through that again. Almost having to defend being what you are and it was, as I said really not my views and not meant to upset. Quite the contrary, it was meant as an opportunity to set things straight, might even be enjoyable.
Believe it or not, I actually have experienced an inkling of what you experienced. Although somewhat different. In my first year at the Rijksakademie in Amsterdam we had to do an end of year open days exhibition when the academy was opened for viewing to collectors and the public alike. This is prime time at the institution and goes with a lot of angst and nerves and hope. Hope you get picked up by a gallerist, a collector or a curator. As it happened at that time I was doing my Milk drawings. where I paint images in milk on white paper and then in random spots burn the page from the back, thus browning that area and revealing the drawing. Look, I admit the work had a certain Zen appeal and look to them. This however was coincidental. I do not practice Zen and it has nothing to do with religious instruction.
I had two collectors from Germany looking for me during open days, couldn't find me for love or money apparently. Meanwhile I was hanging around my studio in case a collector popped in like all the other students. Finally after hours of their search they asked and was introduced to me. I could almost see the disappointment on their faces. They loved the work. but then started asking me about my Eastern, Chinese ancestory. Of which I have NONE. They even went as far back as South Africa being on the trade roots, maybe a Chinese ship… blah blah blah. Come hell or high water they needed me to be a young hot Chinese artist doing zen based work in milk following from an innate zen calmness that is apparently my nature. I was literally almost turned into a Yogi or Guru in front of my own eyes.
I then explained my ancestry, and my reason for doing the work. not related, they dropped me like a Hot Potato.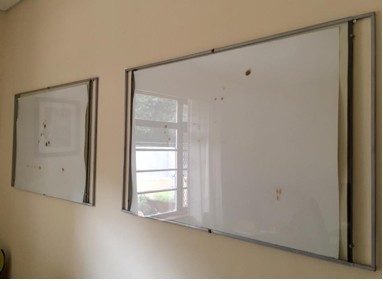 Of course having a name like Luan Nel, which if pronounced with a Chinese accent sounds extremely Eastern, did not make matters easy. it is very school of – Yin Lee or O Tim ling … etc. they were so happy with their Eastern discovery until they discovered my real identity.
How shallow and kind of hurtful.
---
Desmond Mnyila bio:
I was born on 15 January 1970 in Cathcart, a small town in the Eastern Cape, South Africa. My father worked for the Department of Agriculture in the former Ciskei homeland and my mother was a housewife because of illhealth couldn't hold a day job. I studied at Mlakalaka Primary School next to King William's Town from 1978 to 1983 where I passed standard 5. In 1984 went to Nonceba High School in Zwelitsha (a small township close to Bisho where I did standard 6 and in 1985 while doing standard 7 riots erupted throughout the country and it was my beginning of political consciousness. Due to class boycotts we didn't write exams and had to repeat standard 7 in 1986.
I passed standard 10 in 1989 and my English teacher encouraged me to study journalism while my History teacher was of the opinion that I should carry on with History at university. I applied for a journalism course at Fort Hare University but due to large numbers of applicants I wasn't admitted and only admitted to my 2nd choice at the time which was BA (FA). I was elated because art was what I wanted to do but my parents and teacher tried for many years to discourage me as they were of the view that there is no money in art. I studied at Fort Hare from 1990 to 1994 gaining a BA (FA) and HDE with distinctions in Fine Art Practice BA (FA) [1993] and History of Art Method for my HDE [1994].
In 1990 I won Fort Hare Foundation Award. In 1992 I won 2nd prize in a Library week art competition. In 2003 I won Most Outstanding Student Award at Christian Centre Leadership Academy in Abbottsford, East London. 1996 Committee member of East London Fine Arts Association.
In 1992 I exhibited at Sol Plaatjie student Exhibition in the former University of Bophuthatswana. In 1994 I exhibited in a Department of Arts and culture travelling exhibition. 1995- 1996 exhibited at Ann Bryant Art Gallery in 'Anything but painting' group exhibition. In 2000 I exhibited in a Department of Arts and Culture Provincial Exhibition in Grahamstown. In 2014 I participated in a Provincial Arts and Culture Exhibition in Grahamstown.
In 1995 I started Art as a school subject at Ebenezer Majombozi High School in Duncan Village, East London. From 1997- 1999 I worked as Art teacher at Vukuhambe Special School for physically disabled learners. In 2000 – 2001 I worked as an Applied Drawing, Painting and Art Theory lecturer at the former Border Technikon which is by now known as Walter Sisulu University of Technology. 2002-2006 I Worked at Isaiah 58 Primary School. In October 2006 to present, I worked as a Pottery, Ceramics and Life Skills teacher at Grahamstown Amasango Career School.
I work mainly in oil pastel, chalk pastel, acrylics and oil colours. My subject is the landscape and interiors. I am drawn to architecture especially old colonial buildings and seascapes. My main concern is not naturalistic or realistic representation of forms but I use the oil medium subjectively projecting the inner reality onto the canvas. I have experienced turbulent times in South Africa's history and have witnessed this beautiful country change from oppressive regime to a new democratic dispensation. My work reflect the ugly layers of a violent history and the optimism of living in a new South Africa.